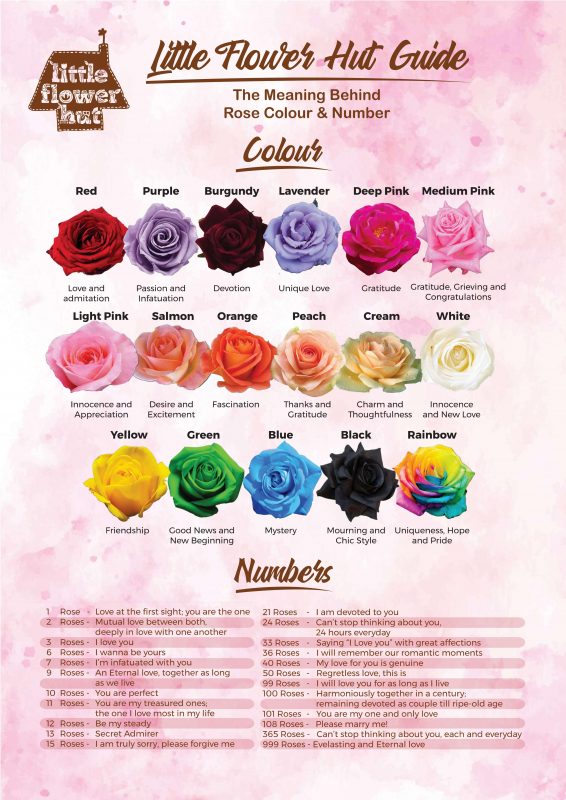 Roses are used for hundreds of years already to convey and relay the sincere messages of love. The natural beauty of roses, regardless of its colors and sizes, is enough to show how much you care for someone when you give it. Little Flower Hut Florist suggests that you make your flower gifting more exciting and memorable by using the different colors of roses when you send your messages of love to someone you love. But if you want to add extra sentiment through your roses, you may use specific color and express your silent message. Here is a brief summary of the meaning of the colors of roses:
These colors of roses can be mixed to express another thought and emotions. If you want professional help, we can be your best partner and option, especially when it comes to flower designs.
When it comes to love and passion, the red roses are your best choice. Florist can give you a wide range of flower arrangements using the red roses. This is the ultimate symbol of romance, intimacy, and passionate love. You can send this on Valentine's Day and on any other special occasions.
White rose represents purity and innocence. A simple flower arrangement of white roses will come out very elegant because of this message. Most men use this to symbolize how pure and sincere his emotions to a girl.
Pink ones symbolize femininity and elegance. This is the best option as birthday flowers for debutantes and female celebrants. Some people also use pink roses to express gratitude and appreciation. Even brides of this modern age prefer to have a hand bouquet of red roses.
Yellow roses are no longer useful to show jealousy because of their negative impact. This color of rose is now used to symbolize friendship, caring, and joy. Florists in Singapore can give you a beautiful and creative bouquet of yellow roses that you can give to friends on special days.
Roses in purple and lilac colors are best to express your message of desire and affection. Some also use it to say convey love at first sight and can be given also during Valentine's Day to a girl you wish to court.
Orange roses express admiration, attraction, and infatuation. Its vivid color in orange tone is just great for birthdays and special days.
MORE Color of Roses Meaning
Black Rose
Black has always been associated with mourning and grief. However, for the modern flower industry, Black Roses are meant to express positive beginnings like a rebirth or a new venture. On the other hand, it could also mean successful ending or beautiful finale. Although black Rose is never real, the florist can give you Roses in darker shades of purple, maroon, and red.
Merlot Rose
The dark red petals of the Merlot-colored Rose are like the colors of wine. A floral arrangement crafted with this color of Rose creates a unique and impressive design ideal for bridal bouquets and romantic occasions. Most brides prefer the Merlot-colored Roses because they perfectly fit the white and elegant bridal gown.
Marsala Rose
Rich and robust in color, Marsala Rose has the color inspired by a famous Italian wine, Marsala. It has the combination of red-brown tones and shades of blush. The florist crafts beautiful bridal bouquets of Marsala Roses to match the long and flowing wedding gowns. This color of Rose is also perfect for Valentine's Day and romantic events.
Hot Pink Rose
Gorgeous and stunning, the Hot Pink Roses look very impressive in deep rich pink tone. There are several varieties of hot Pink Roses, which include Hot Lady, Hot Princess, Wild One Dark Fuchsia Roses, Tanoshi, and Pink Floyd. The florist can give you the best color of hot pink Roses that will match the occasion and theme of celebration.
Vintage Rose
Inspiring in its modern neutral color, the Vintage-colored Roses are stunning for sophisticated occasions. It makes a perfect alternative to traditional red Roses for vintage-style events and romantic occasions. The florist can make different floral arrangements pairing the vintage Roses with other shades and accents.
Blush Roses
Symbolic of beauty, gentleness, and grace, Roses in blush color are a quintessential for romance and intimate celebrations. It offers an ultra-feminine shade that matches any wedding theme. The florist pairs the Blush-colored Roses with other colors of Roses to create a lovely bouquet.
Peach Rose
A Peach Rose symbolizes modesty and sincerity. It has the pale orange and pink colors combined for soft and delicate appeal. Peach Roses are used for a wide range of floral arrangements and flower bouquets. They are ideal for bridal bouquets and wedding flowers, as well as for special occasions like Mother's Day.
Mint Rose
Lovely in mint green color, this Rose is a product of hybridization from Old Roses. It has the sweet fragrance and more durable petals and stem. It is bred to be disease-resistant. Mint green Roses are symbolic of affection and optimism. The florists in Singapore use mint green Roses as an alternative to the traditional red Roses on Valentine's Day and on romantic celebrations.
Emerald Rose
Balancing brightness with richness, the Emerald Rose looks very attractive in rich color of green. It adds a bit of glamour and excitement to the flower arrangement. Symbolic of life, nature, and hope, a flower bouquet of Emerald Roses is ideal to send for joyful and cheerful wishes of happiness and good health, as well as prosperity.
Forest Rose
Versatile and exquisite, the Forest Rose in rich and thick green petals are perfect for happy moments and joyful celebrations. It can complement any colors of Roses. Forest green Roses are among the unique flowers that symbolize love. They look pretty in bouquets, in floral arrangements for home decorations, and in indoor gardens. The florists can have the freshest Forest green Roses for your bridal bouquet.
Gray Rose
For various gray Roses selections, in flower arrangements, bouquets, or in vase, the florist offers the freshest and high quality flowers for all occasions. Gray Roses are symbolic of sophistication and formality. The elegant bouquet of gray Roses makes any contemporary events and themes more chic and stylish. If you want to make a powerful statement or you want to be mysterious, take advantage of the gray Rose bouquets.
Navy Rose
Navy Roses are beautiful to pair in a wedding dress. This Rose is not only attractive and impressive but meaningful as well. It has a dark shade of blue, which speaks of confidence, pride, and importance. It also conveys fun memories and happy celebrations. Although navy blue Roses are surreal, there are dyed Roses and hybrid varieties.
Baby Blue Rose
Ideal for baby showers and baby gender reveal party, a bouquet of baby blue Roses makes the sweetest and thoughtful gift you can give to new parents. This color of Rose is symbolic of innocence and mystery. It is rare among other colors of flowers, thus it is difficult to compare its beauty.
Aqua Rose
Roses in aqua blue color look luxurious and elegant. This color can be difficult to find in Roses, but with the florists, you are fortunate to have them fresh and of high quality. Aqua Roses are especially cultivated. An aqua blue Rose speaks of prosperity, wisdom, serenity, and peace.
Lavender Rose
Used to signify enchantment, the flowers of Lavender Rose are an ideal choice for a beautiful romantic bouquet on special days. The Rose in lavender color speaks of sincere love and admiration, as well as appreciation. This color of Rose is one of the most remarkable colors in flowers that express deeply meaningful symbolisms.
Violet Rose
Associated with royalty, majesty, and elegance, the violet-colored Roses send a clear message of magical love experience at the first sight. In addition, this color expresses infinite possibilities and creativity. Violet Roses are special and rare. It can be difficult to find Roses in violet color. Gardeners and horticulturists breed varieties of Roses to obtain the color, but there are violet Roses in other parts of the world.
Plum Rose
Plum Rose is a very intriguing color of Rose. It is used to symbolize adoration, fascination, and mystique. Plum Roses make a very romantic gift on special occasions and events. It can be a great option to alternate the traditional red Rose bouquet. Plum Roses are hard to find. Fortunately, there are cultivars already available in plum color.