Fresh Live Christmas Wreath Directly Shipped From Holland
A Christmas Wreath Makes a Great Gift!
Still working on your Christmas list? What do you give your family friends and loved ones in Singapore? Do you still need to shop for every single member of the family? Well, unless this has become a tradition and the little nieces and nephews are expecting it, you can order a Christmas wreath this year and have it delivered at the doorstep of your loved ones. That's perfect. Now they can hang it right away at their door. Shop at Little Flower Hut Today!
more Christmas flowers
How to Decorate Your Christmas Wreath?
What kinds of flowers look great on a Xmas wreath? Keep in mind that you can use real flowers and artificial flowers as well as Christmas balls, ribbons, and pine cones. There are many color options to consider too.
You can go from the usual red, green, and gold or go for tones of blue, purple, and pink. A snowy white Christmas wreath would also make a great holiday gift. Tiny white gypsophila flowers look striking against a dark door.
Roses look great on a wreath. From red roses to cream and pink roses, this flower will always look great as decorations. You can also choose from different shapes of wreaths including circle and even a star which is suitable for Christmas.
A Christmas wreath is not restricted to flowers though. You can also use cinnamon and oranges on your wreath. It would look and smell oh so nice for the holidays. Foliage is also becoming a trend as a rustic wreath. Order your Christmas wreath today and send them over the holidays. Now go ahead and tick off those names from your list. We've got you covered.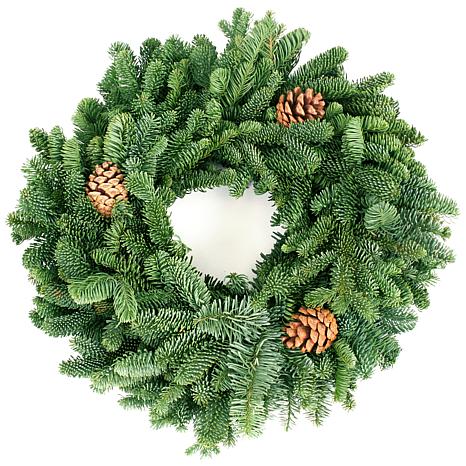 100% Real Premium Fresh Christmas Tree
Shop Easy, Buying Christmas Tree Online
Free Delivery and Tree Stand. Limited Time Only!
Send Christmas Wreath to Family and Friends
If you order early, you can save your friends time making their own Christmas wreath. This holiday wreath is not just for hanging on the door. There are unconventional yet trendy ways to display a wreath in your home. If you want decorations for a festive look this Christmas, wreaths make a great option if Christmas trees are too much. You can hang a wreath around a grandfather clock, above the foyer table, on windows, curtains, above cabinet doors, across a mirror, framed, as a centerpiece, above the garage door frame, across the upstairs windows, and along the front porch railing. The options are almost endless as to where you can place a Christmas wreath.
Your friends will surely be delighted when you arrange for a trusted flower delivery at their place. You can send the festive mood throughout their home with this holiday decoration.
Shop Christmas Wreaths & Garlands Online:
Christmas is the time to show your love and passion for your loved ones and family, and you can do this by creating beautiful decorations in and outside your house. When it comes to Christmas decorations, you can never miss the Christmas wreaths and garlands. These are two classical traditions that are still young and liked by everyone. The Christmas door wreaths with lights and Garlands are used for the decoration of doors, walls, and other parts of your house.
The outdoor Christmas wreaths and luxury Christmas door wreaths and real Christmas wreaths are something that Little Flower Hut is offering to its clients. This Christmas you can get the best Christmas door wreaths outdoor, luxury Christmas wreaths while sitting at home. You can order online from the website of Little Flower Hut. Little Flower Hut is having a Christmas garland clearance sale and is offering its clients to get these at a very cheap price and get them delivered anywhere in Singapore.
Decorate your door with a Live Christmas wreath from one of Singapore's Best Florist:
You can also get front door garland ideas and Christmas garland in wholesale prices, and Christmas wreath and garland set. If you are looking forward to the answer to this question that from where to buy fresh garland, well you can easily shop these from the website of Little Flower Hut. You can buy and use these wall wreath decor and garlands to add beauty if your Christmas decorations.
You can also get a large Christmas wreath or a real Christmas wreath or outdoor Christmas wreath and much more. You can get all of these Christmas wreaths wholesale, wreath door hanger, live Christmas wreaths for sale, Fresh door wreaths, at a price that is very affordable. You can get the best Christmas wreath and garlands from Singapore one of the best garden centers.
Largest Variety of Premium Quality Christmas Garlands and Christmas Wreaths:
Little Flower Hut offers the best quality Christmas wreaths and Christmas garlands with a wide range of options to choose from. You can get a lot of different weather and garlands, that are listed and pre-built or you can order a wreath or garland that is specifically made for you in custom.
Here are a few types of wreath and garlands offered by Little Flower Hut are given below.
This special wreath is made up of a pine tree, this luxury Christmas wreath has a base of and other materials of a pine tree.
Eucalyptus Christmas wreath
The Eucalyptus Christmas wreath is also another luxury Christmas wreath that you can get from the website of Little Flower Hut.
This Christmas wreath is made with flowers. You can get different kinds of flowers on your wreaths to beautify them even further.
The Bauble wreath for Christmas is the ultimate luxury wreath that you can get for your doors and indoor decoration.
This type of wreath is made with the help of flowers from the seasonal trees, these flowers create a stunning look on your doors.
You can also shop a lot of different kinds of plain Christmas wreaths from Little Flower Hut website as well.
Artificial Christmas garland
Garlands that are artificial and made with artificial materials are also available in the lists for Christmas decorations to choose from.
Xmas wreath selection for the very best in pre made or personalised, handmade pieces from the most experienced wreath's shops:
You can check out a lot of different beautiful and affordable wreaths and garlands from the listing on our website, you can choose to have a pre-built indoor wreath or weatherproof outdoor wreaths or you can get an insight about how to make a Christmas wreath for yourself as well. The Christmas wreaths, fresh door wreaths, fresh wreaths, best fresh Christmas wreaths, fresh flower wreath delivery, and a lot of other options are also available that you can choose from the website while shopping.
Little Flower Hut is offering all of these fresh Christmas wreaths and floral wreath delivery options to the customers in Singapore with free delivery and wholesale prices. You can get the best flower wreath at a very reasonable and affordable price. But you can also get luxury, fresh flowers, a wreath with lights, and garlands for indoor and outdoor decorations as well.
We Offer customized Christmas wreath to meet your festive needs:
Little Flower Hut website allows you to choose the flowers, design, and other materials for customizing your floral wreath for Christmas so that you can get what you exactly want. So, If you are not into buying the pre-built Christmas wreaths and want to create or customize your very own fully customized Christmas wreath or fresh Christmas wreath or a customize live Christmas wreath, you can just click on the customization buttons and get what you want and customize your Christmas wreath or garland or Christmas baubles or get a personalized Christmas ornament, and many other Christmas decorations options as well.
Farm fresh Christmas Wreaths and garland right to your doorstep. 100% quality and convenience you love:
You can get all these premium quality and best priced Christmas wreaths and garlands with fresh flowers delivered at your doorstep anywhere in Singapore. Little Flower Hut is offering free and fast delivery services, including same-day delivery and 24 hours delivery options that you can choose. These services are offered to all the customers inside Singapore so that they can get what they want with the best quality and utmost convenience.
You can go to the website anytime, and select the type of Christmas wreath or garlands that you need and order them and they will be delivered to your place so that you will not have to step outside and go to a store to buy these. Apart from the convenience, you also get the best quality products when you shop from the Christmas wreath and garlands shop of Little Flower Hut.